Shipments of High Refresh Rate Monitor Panels Soar in 2Q23, BOE Secures Top Spot, Says TrendForce
TrendForce reveals that 2Q23 witnessed a significant surge in the shipments of high refresh rate panels (100Hz+). The growth rate for this quarter skyrocketed by an impressive 62%, with total shipments hitting 9.6 million units.
This massive uptick is predominantly attributed to China's 618 shopping event which spearheaded a strategic stocking of high refresh rate products, alongside an increasing number of brands actively investing in the 100Hz product line—substantially increasing demand for panels. Furthermore, most panel makers have also been actively developing new 100Hz products in a bid to capture the high refresh rate panel market.
BOE, embracing the market's momentum, managed to secure the lion's share in the second quarter. By early positioning in the light gaming market and riding the 100Hz product trend wave, BOE amassed an impressive 28% of the market share, thus leading the high refresh rate panel shipment race.
CSOT followed closely behind with a 26% market share, buoyed by high demand for high refresh rate panels in the Chinese market and coupled with an increase in the production of IPS high refresh rate products in Q2, supporting the previously prevalent lineup of VA high refresh rate products.
AUO secured third place with a 20% share, having a diverse and comprehensive line of high refresh rate products. However, their focus on products with high refresh rates higher than 144Hz resulted in fewer 100Hz panel shipments, dropping them slightly below BOE and CSOT.
Innolux, securing fourth place with a 12% share, saw a high quarterly growth rate of 85% driven by a large order of 100Hz panels—a rate surpassing the overall average growth of 62%.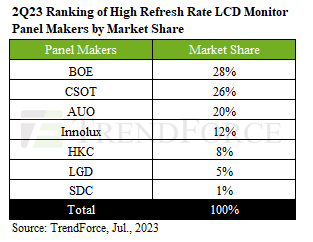 ---
ABOUT THE AUTHOR
With more than seven-year working experience in the downstream LCD monitor sector, Anita Wang expands the research area into monitor SI segment. On top on the people connection established in the course of the period, she uses statistics tools, intuition on figures, and data-processing skills to systematically build statistics models and project long-term trend. Combining her field research and scientific method, she conducts full analysis on data gathered to dig into the changes in the LCD industry and monitor industry.
---